Posts Tagged 'press'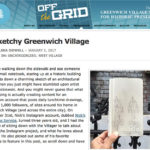 April 26, 2017
An interview in the Greenwich Village Society for Historic Preservation's blog, Off the Grid, on 1/2/2017.
June 24, 2016
Nick's Lunchbox Service daily drawing project featured on Twitter Moments on May 20, 2016.
September 22, 2014
Article in the Examiner on my open studio at the Dumbo Arts Festival on September 27 and 28, 2014.