January 15, 2016
Nick Golebiewski
Literary Greenwich Village
February 1-29, 2016
Hudson Park Library Gallery
66 Leroy Street, New York, NY 10014
Opening Reception: Tuesday, February 2, 5-7pm
Artist Talk: Thursday, February 18, 6-7pm
Literary Greenwich Village, an exhibition by artist Nick Golebiewski, features photographed ink drawings of historic literary sites in Greenwich Village. In his distinctive style of pen-and-ink sketch situated precisely within a photograph's frame, Golebiewski's exhibition captures authors' and poets' buildings and apartments, all within walking distance of the Hudson Park Library branch of the New York Public Library. More than a dozen pieces are included, picturing sites of note related to such writers as Mark Twain, William Burroughs, E. E. Cummings, Jane Jacobs, Edna St. Vincent Millay, James Baldwin, Emma Lazarus, and Marianne Moore. Literary Greenwich Village distills the literary history within the Hudson Park Library community, reviving memories of a literary lineage tied together by a shared neighborhood over the decades.
The drawings in Literary Greenwich Village are selections from Golebiewski's project "Nick's Lunchbox Service." Comprised of drawings created, photographed and exhibited online daily, "Nick's Lunchbox Service" entered its third year in 2016. Golebiewski creates a sketch once per day and photographs the sketchbook in front of the subject matter, be it a building or city-scene, as if it were a filter dropped in front of the actual object.
Literary Greenwich Village is on view at the Hudson Park Library of the New York Public Library at 66 Leroy Street, where the exhibition runs February 1-29, 2016.
Library Hours: M 11am-6pm, T 12-7pm, W 11am-6pm, Th 12-7pm, F 10am-5pm, S 10am-5pm, Su Closed
Bio: Nick Golebiewski (1980) is a New York artist specializing in painting and pen-and-ink. Originally from Buffalo, NY, he received his BFA in painting from the University at Buffalo and studied painting restoration in Florence, Italy. Based in New York since 2003, he has exhibited works of painting, drawing, Super 8 film, and shadow puppet performance. Golebiewski has screened at Anthology Film Archives (NYC), performed at Richard Foreman's Ontological ­Hysteric Theater (NYC) and exhibited at the National Gallery of Victoria (Melbourne, Australia). He currently lives and works in the West Village.
Web: http://nickgolebiewski.com
Instagram: https://www.instagram.com/nickgolebiewski/
—-
Take a self-guided walking tour of the authors included in Literary Greenwich Village – PDF – Nick Golebiewski – Literary Greenwich Village – Map and Info Sheet
Google Maps: http://bit.ly/1KkwBuG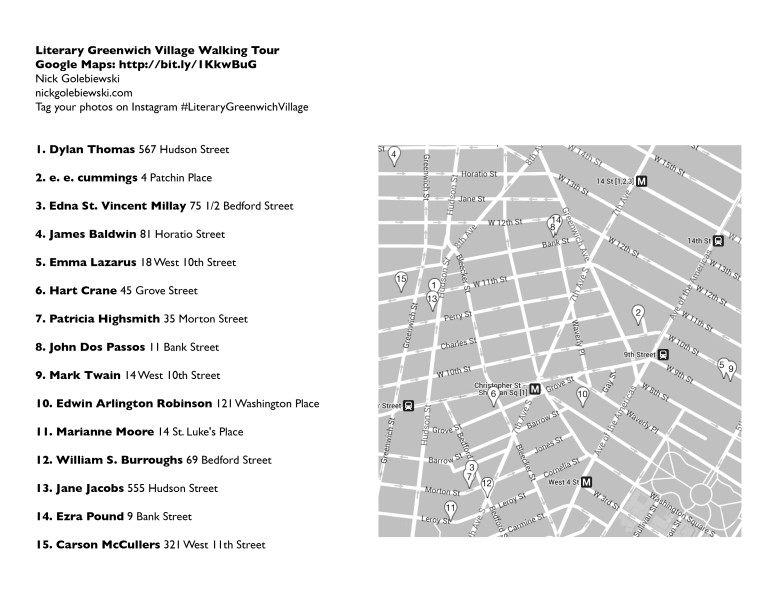 One Response to "Exhibition: Literary Greenwich Village"