March 10, 2016
On March 10, 2016 I took over the Instagram feed at the Museum at Eldridge Street. Here's a record of the day. Also, take a look at the #NicksLunchboxatEldridge hashtag on Instagram.
January 15, 2016
Nick Golebiewski
Literary Greenwich Village
February 1-29, 2016
Hudson Park Library Gallery
66 Leroy Street, New York, NY 10014
Opening Reception: Tuesday, February 2, 5-7pm
Artist Talk: Thursday, February 18, 6-7pm
Literary Greenwich Village, an exhibition by artist Nick Golebiewski, features photographed ink drawings of historic literary sites in Greenwich Village. In his distinctive style of pen-and-ink sketch situated precisely within a photograph's frame, Golebiewski's exhibition captures authors' and poets' buildings and apartments, all within walking distance of the Hudson Park Library branch of the New York Public Library. More than a dozen pieces are included, picturing sites of note related to such writers as Mark Twain, William Burroughs, E. E. Cummings, Jane Jacobs, Edna St. Vincent Millay, James Baldwin, Emma Lazarus, and Marianne Moore. Literary Greenwich Village distills the literary history within the Hudson Park Library community, reviving memories of a literary lineage tied together by a shared neighborhood over the decades.
The drawings in Literary Greenwich Village are selections from Golebiewski's project "Nick's Lunchbox Service." Comprised of drawings created, photographed and exhibited online daily, "Nick's Lunchbox Service" entered its third year in 2016. Golebiewski creates a sketch once per day and photographs the sketchbook in front of the subject matter, be it a building or city-scene, as if it were a filter dropped in front of the actual object.
Literary Greenwich Village is on view at the Hudson Park Library of the New York Public Library at 66 Leroy Street, where the exhibition runs February 1-29, 2016.
Library Hours: M 11am-6pm, T 12-7pm, W 11am-6pm, Th 12-7pm, F 10am-5pm, S 10am-5pm, Su Closed
Bio: Nick Golebiewski (1980) is a New York artist specializing in painting and pen-and-ink. Originally from Buffalo, NY, he received his BFA in painting from the University at Buffalo and studied painting restoration in Florence, Italy. Based in New York since 2003, he has exhibited works of painting, drawing, Super 8 film, and shadow puppet performance. Golebiewski has screened at Anthology Film Archives (NYC), performed at Richard Foreman's Ontological ­Hysteric Theater (NYC) and exhibited at the National Gallery of Victoria (Melbourne, Australia). He currently lives and works in the West Village.
Web: http://nickgolebiewski.com
Instagram: https://www.instagram.com/nickgolebiewski/
—-
Take a self-guided walking tour of the authors included in Literary Greenwich Village – PDF – Nick Golebiewski – Literary Greenwich Village – Map and Info Sheet
Google Maps: http://bit.ly/1KkwBuG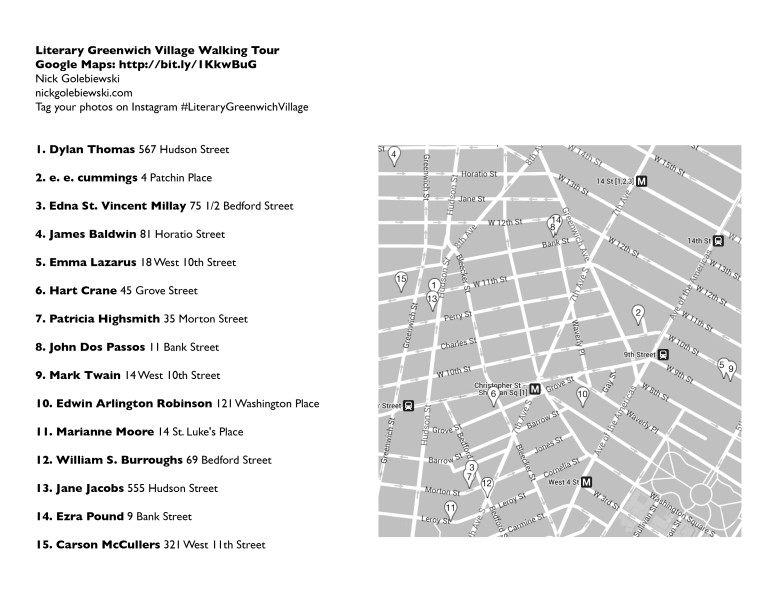 July 1, 2015

My drawing-a-day project, Nick's Lunchbox Service, is on the High Line's Blog: "Photo(s) of the Week: Drawing Inspiration from the High Line". For a week, I made drawings on the High Line, an elevated out-of-use railroad trestle turned public park on the west side of Manhattan. Read the article.
May 15, 2015
Today, May 15, 2015, marks the 500th consecutive drawing in my drawing-a-day project, "Nick's Lunchbox Service" — a milestone. I've served up one drawing each and every day, wherever I happened to be be, since January 1, 2014, without missing a single one.
I sketch something I pass and then take a photograph of the sketchbook in front of the subject, as if it were a filter in front of the actual object. Check out the archive page on Tumblr to see them all. Most are in NYC, but the settings also include Buffalo, Columbus, Toronto, Turkey and a mountain top or two.
This sketchbook project lives on the Internet but it occurs in real life. It weaves in descriptions of what's depicted, architectural history, and a diary of my life, which become much more amazing, complex and rewarding with the birth of my daughter in December.
One day I'd love to make a book out of the Lunchbox drawing project. To help make that happen, please amplify the project by sharing on Instagram, Tumblr or Twitter whenever you notice an installment you particularly like. Thanks to all who already do.
January 7, 2015
Did you know that in 2014 I made a drawing each and every day? Check out my Nick's Lunchbox Service project, and often as it continues into 2015.
The drawings are all made onsite, generally outdoors, photographed on site to blend in with the surroundings, and mostly focused on NYC streets and architecture, but occurred wherever I happened to be–with whatever time frame. Manhattan and Brooklyn are represented most frequently , but the project follows my travels to Buffalo and Columbus, and even to Toronto and to Turkey.
Some days I would have one minute to make a sketch and others more time up to twenty minutes (and good weather, icy weather means a quicker sketch).
In addition to the drawings, text went with it. Sometimes researched, sometimes a momentary impression.
In the feedback I received, there were two main threads of a similar theme. One taking inspiration from the fact that "it doesn't have to be perfect". The other appreciating that a drawing is made every day I matter if I'm "too busy". One post received over 20,000 notes in Tumblr, go figure.
In 2015 I'm moving the "home" of the project from Tumblr to Instagram. I'm announcing you can commission a "lunchbox" drawing and photograph. Also, I'd love to make a book of this project — stay tuned.
And if you were following along all year, thank you!
-Nick
September 22, 2014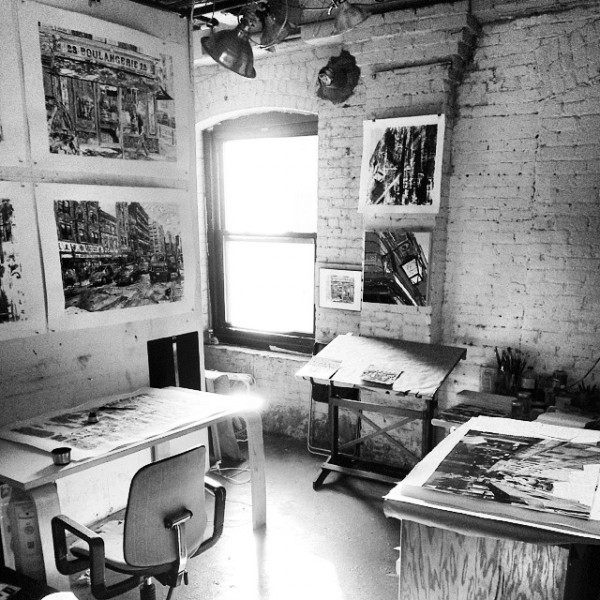 Article in the Examiner on my open studio at the Dumbo Arts Festival on September 27 and 28, 2014.
August 17, 2014

Have you wished that you could get all my "Nick's Lunchbox Service" drawings from the last week delivered in an email every Monday? Well, you're in luck!
Sign up for my email list & check the 'lunchbox' box:
August 7, 2014
Nick Golebiewski | Open Studio
Dumbo Arts Festival 2014
Saturday and Sunday, September 27 & 28 | 12 – 6 p.m.
10 Jay Street #303 | Brooklyn, NY
I'll be participating once again in the Dumbo Arts Festival, when the entire neighborhood and its artists open their doors for guests and art events all weekend long (plus food trucks!).
As always, I'll be in my studio sharing my most recent work with you and anyone else who drops by. Come to 10 Jay Street #303 on Saturday Sept. 27 and Sunday Sept. 28 from noon to 6 p.m. to see my latest gouache paintings and xerox transfer drawings of Chinatown the way they were meant to be seen — in person and in large scale!
Take a look at the listing on the Dumbo Arts Festival website.
Image: Chinatown – Division Street Produce Market, 2014, gouache on paper. 2'x3' total.
July 4, 2014

From the Summer 2014 Newsletter no.1 (Sign up)
June 30, 2014
I got some new postcards in today for the Nick's Lunchbox Service project today. I then went out and photographed them in the same style as the drawings.